Deck Coating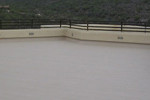 DECK COATINGS/TOUGHWALL-PARAPET PAINT:  Water based, 100% acrylic, fire resistant, waterproof, floor and decking system.  Designed to beautify and protect a wide variety of walking surfaces from damage and deterioration due to weather and pedestrian traffic.  Smooth and textured finishes are available.  Available in (12) standard colors with hundreds of custom colors and matches already on file.  Sun Kote, Deck Kote is designed for Roofs, parapets, pedestrian traffic bearing surfaces including walk decks, porches, patios, boat decks, sidewalks, pool decks, stairways and balconies.
***PACKAGING***   ALL SUN TECH & SUN KOTE PRODUCTS ARE AVAILABLE IN: 
1, 2 & 5 Gallon Pails, 55 Gallon Poly and Steel Drums and 275 Gallon Totes.