Elastomeric Paint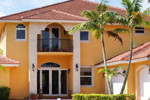 SUN KOTE ACP (All Climate Paint), SUNLASTIC ELASTOMERIC COMMERCIAL/HOUSE PAINT:  Sunlastic is a 100% acrylic, elastomeric wall coating for exterior masonry, stucco and wood. (Can also be thinned with SK3000 for interior uses.)  Sunlastic ACP has exceptional flexibility and provides superior protection against wind driven rain and moisture by bridging hairline "spider" cracks and other small imperfections that develop after construction.  Sunlastic accommodates normal expansion and contraction by providing outstanding elastic recovery and resilience, even under conditions of extreme cold and heat.  Sunlastic has outstanding resistance to ultraviolet light and dirt pick up, and can be touched up easily.  Available in 50 standard colors with hundreds of additional custom colors and competitive color matches on file. 
***PACKAGING***   ALL SUN TECH & SUN KOTE PRODUCTS ARE AVAILABLE IN: 
1, 2 & 5 Gallon Pails, 55 Gallon Poly and Steel Drums and 275 Gallon Totes.