Sealer/Bonder/Stains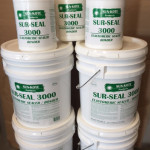 SEALER/BONDER/PH STABILIZER/WOOD & STONE STAIN:   Elastomeric penetrating sealer/bonder to be used on stucco, concrete surfaces, wood, stone, brick and many other porous and non-porous surfaces.  It promotes a uniform cure by penetrating, sealing, hardening and dust proofing porous surfaces.  It dries to a clear, chemically neutral, hard, non tacky surface while providing moisture and water resistance. Sure Seal acts as a sealing agent that neutralizes pH hot spots and retards efflorescence (a powdery crust) and spalling (surface deterioration).  It insures excellent bonding adhesion between surfaces and most finish coatings.  Sure Seal features superior bonding for acrylic, elastomeric and related synthetic products (paint, synthetic stuccos, etc.).    Sure Seal can be added to paints and Stuccos as a bonder.  Variations have also been very effective in sealing problem leaks in anything from cracked, cement, high parking structures troublesome shingles and flashings.  Sure Seal variations can be lightly tinted for staining woods (highlights grains often giving the aged and weathered look.) stone or even brick.
***PACKAGING***   ALL SUN TECH & SUN KOTE PRODUCTS ARE AVAILABLE IN: 
1, 2 & 5 Gallon Pails, 55 Gallon Poly and Steel Drums and 275 Gallon Totes.