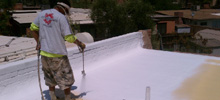 Acrylic Roof Coatings
Sun Tech and Sun-Kote Acrylic Roof Coatings are multi-purpose, single component polymers specifically formulated to deliver a high solar reflective index (SRI) by deflecting the infrared (IR) and ultraviolet (UV) waves of the sun while also waterproofing most all surfaces. Formulated to give long lasting protection against severe weather and wind driven rain, our highly reflective coating forms a tough film that retains its flexibility over a wide range of temperatures. High in solids and extremely heat resistant, our coatings are made from 100% acrylic polymers. Specially formulated for ponding water situations to provide superior protection against high temperatures and severe weather. They have superior flexibility for expansion and contraction resistance. White Roof coatings significantly reduce rooftop temperatures and heat transfer thus saving energy and extending the buildings substrate life span.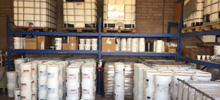 Primers, Sealer/Bonders, Caulk/Putty, Self Levelers and Sealing Stains
Prime-All/SK200 (Gray Primer/Bonders) and Sure Seal/SK3000 (Clear Sealer/Bonders) are tough, durable 100% styrene acrylic coatings. They combine an extremely long lasting, high performance polymer resin with the highest grade sealing and bonding additives to assist in a tight seal of the porosity of various materials including urethane foam, built up roofing (BUR), rolled shingles, tar & asphalt straps over metal, wood or masonry decking. Designed to seal, encapsulate and bond to petroleum based substrates and popular construction materials. Sun Joint Sealant (SJS) and SK300 are premium, water-based, elastomeric, acrylic sealants engineered for long-term flexibility, adhesion and weather resistance.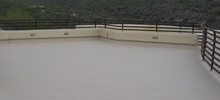 Elastomeric Walk Deck Coatings
Deck Kote is a water based, 100% acrylic, fire resistant, waterproof, floor and decking system. Designed to beautify and protect a wide variety of walking surfaces from damage and deterioration due to weather and pedestrian traffic. Smooth and textured finishes are available. 12 colors are standard with hundreds of additional custom colors and matches on file. Deck Kote is designed for Roofs, parapets, pedestrian traffic bearing surfaces including walk decks, porches, patios, boat decks, sidewalks, pool decks, stairways and balconies. Deck Kote is also an extremely durable finish for stucco walls, custom homes and buildings, resembling when applied, a tough, colored, synthetic stucco finish. Synthetic Stucco and sanded or rubberized base coats are also available upon request.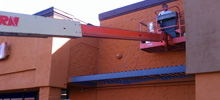 All Climate Elastomeric Paint
Sunlastic, All Climate Paint (ACP or STUCCO PAINT) is a 100% acrylic, elastomeric wall coating for exterior masonry, stucco and wood. (Can be thinned with SK3000 for interior uses.) Sunlastic ACP has exceptional flexibility and provides superior protection against wind driven rain and moisture by bridging hairline "spider" cracks and other small imperfections that develop after construction. Sunlastic ACP accommodates normal expansion and contraction by providing outstanding elastic recovery and resilience, even under conditions of extreme cold and heat. Sunlastic ACP has outstanding resistance to ultraviolet light and dirt pick up, and can be touched up easily. Available in 50 standard colors with hundreds of custom colors and matches on file.